TESTING THE "NEW NORMAL" FOR THE OFFICE – FOLLOW OUR JOURNEY
5 Minute Read
At Vari, we're continuing to transform our headquarters in preparation for the return of our team. Our headquarters has always been a living, breathing showroom and ideation lab, and we're taking that philosophy even further now.
Spacing and distancing, reducing touch points, adding separation, and enhancing sanitation are just some of the things we're exploring. We're tapping into the flexibility and simplicity of our workspace solutions more than ever.
We invite you to follow our journey. As we see what works – and what doesn't – we'll share those findings here.
As I tell my team, we're all in this together!
1. Spacing and Social Distancing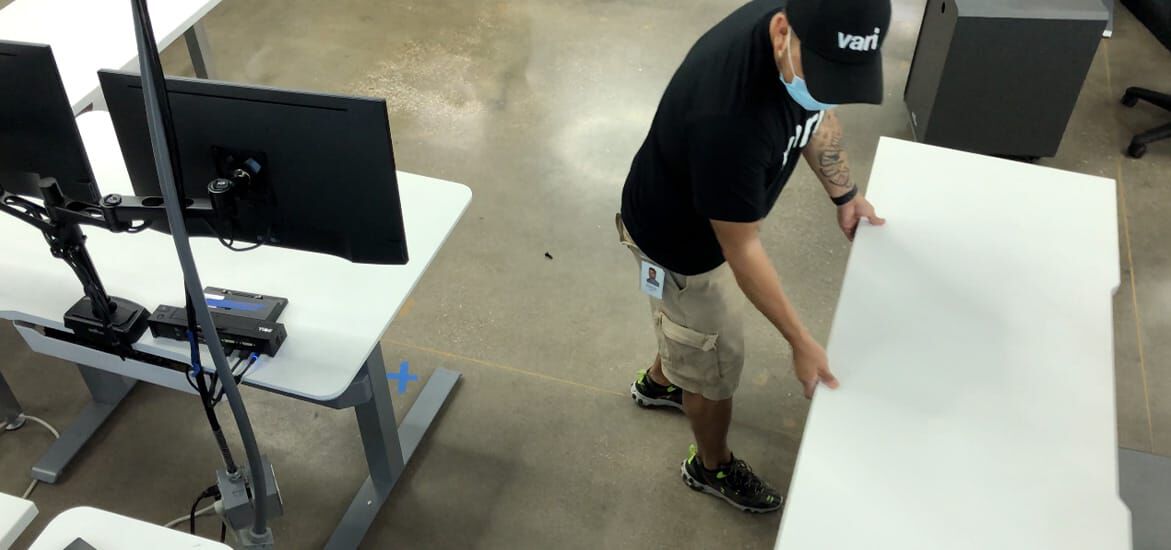 Workstations
To add more distance (6 feet) between team members and increase the square footage per person, we're adding tables and storage cabinets between our standing desks. All of the laminate surfaces on our desks and tables are easy to wipe down, so we'll add cleaning wipe stations and encourage team members to use them regularly. We've also gotten creative in how we position some workstations by moving away from a central spine benching model. Some workstations are broken into pods where the desks are oriented outward so people can work facing away from each other.
Shared spaces
To avoid crowding, we've added a second coffee bar to our space, and we'll allow fewer people to meet in conference rooms. Both spaces will have signage on the floor requiring people to walk in a certain direction to minimize cross-traffic as they enter and exit. The same one-way walking patterns will be encouraged in hallways and other common areas.
Staggered scheduling
By having fewer people in the office at the same time, you automatically lower your density and increase your square-footage per person, so we're likely to maintain some form of work-from-home scheduling in our version of the "new normal".
2. Reducing Touch Points and Contact Surfaces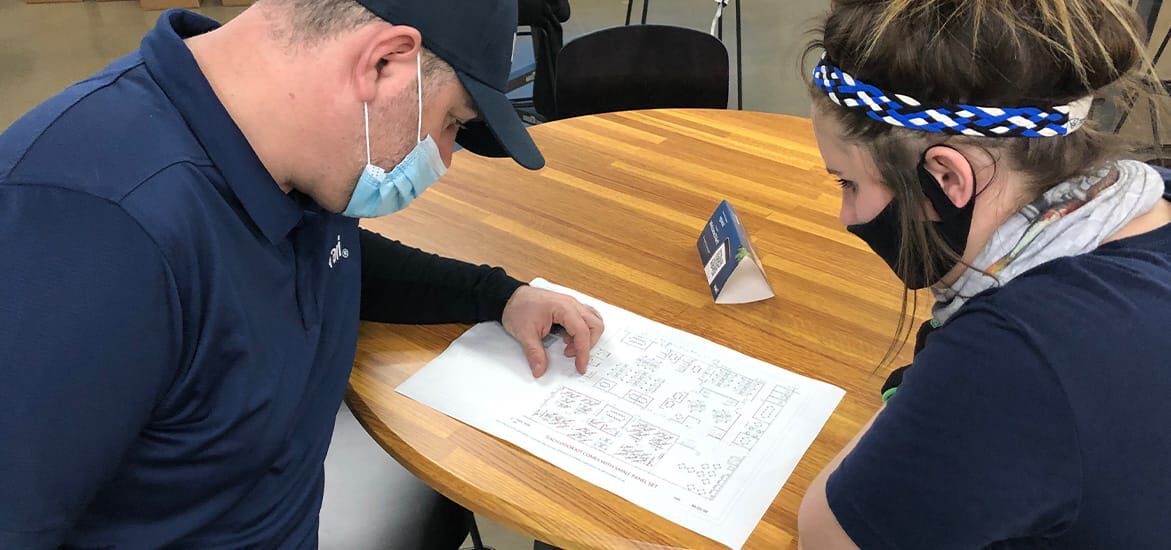 Doors
Door handles are an obvious problem site, so we've tried to limit their use by either removing doors where possible, or making the handles operable with a foot or forearm. In the few places where it's still necessary to use a door handle, we've placed sanitizing stations nearby.
Coffee and break areas
In common areas, we've tried to limit shared resources like coffee pots and creamers, so we've added more touchless coffee machines to avoid crowding, and switched to single-use cream and sugar packets. Signage on the floor and on rolling marker boards will be used to encourage team members to observe recommended habits like hand sanitizing and following set traffic patterns. We'll also encourage people to consider bringing their own utensils and dishes when possible.
Deliveries
Just as we've all been doing with groceries and packages in our homes, our front desk staff will make sure that all deliveries are thoroughly wiped down when they arrive before being touched or handled by anyone else in the building.
3. Adding barriers and separation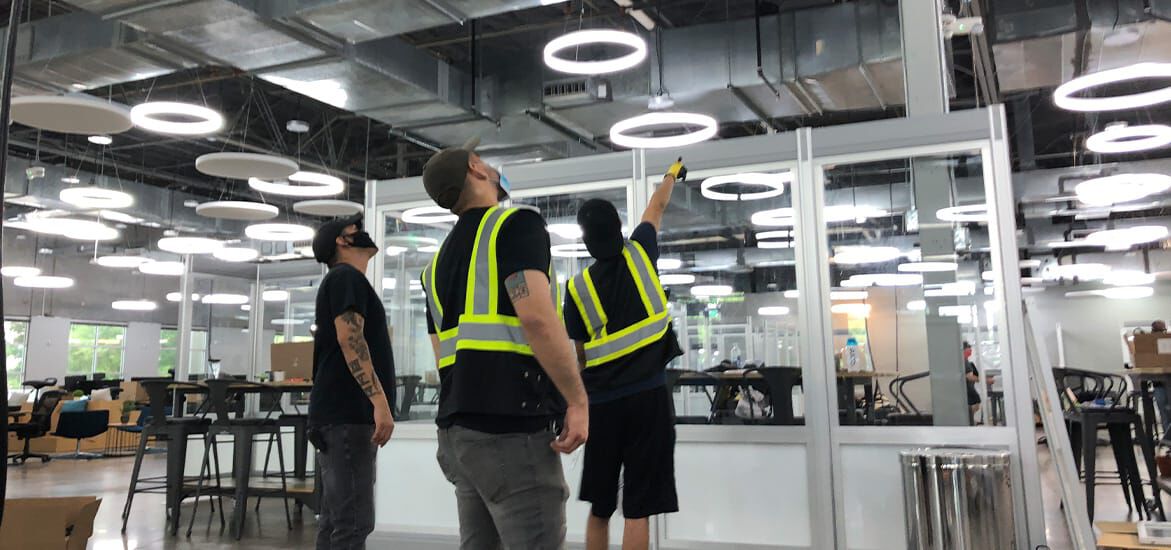 Quick Flex Walls®
As we redesign our workspace to add more barriers and reduce exposure to airborne particles, our QuickFlex Walls® have become an extremely important and convenient solution. They allow us to break up open spaces without making the office feel dark or heavy. The clear panels allow light to continue to flow through the space and the visibility helps our team members feel connected. It's also nice to know that we can easily move and reconfigure them to meet any future guidelines or safety requirements.
Movable Partitions
For the ultimate flexibility, we've been using our rolling marker boards as temporary partitions between spaces that are in flux. The added bonus is that they can double as a collaboration tool or signage. We'll use them to educate our team on using our new walking paths, sanitizer stations, and other office updates.
Getting Creative
The office renovation is giving us a chance to work on some exciting new solutions like "living walls" of plants that separate spaces, beautify the office, and even improve air quality. We've also modified our privacy panels to create a version that's 24" high to provide a more effective barrier between workstations. They're easy to install, easy to clean, and the clear acrylic allows for visibility between team members.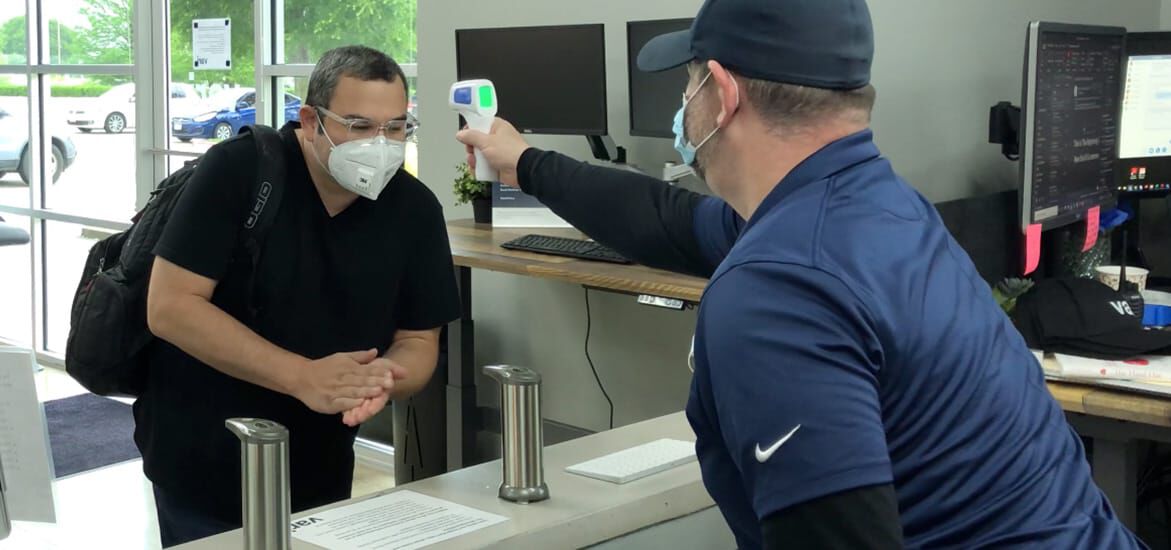 Personal Protection
In addition to adding hand sanitizer stations throughout the office, we'll make wipes, gloves, and masks available to employees and visitors. In any area where there are shared surfaces or resources – like door handles, lockers, and meeting tables – we'll place easily accessible, touch-free hand sanitizing stations.
Getting Professional
We'll also rely more on our incredible maintenance staff to help us stay on top of the increased cleaning needs. They'll increase their use of gloves and utilize approved sanitation products while increasing the cleaning schedules for all meeting spaces. Over one percent of our staff is dedicated to cleaning, with four housekeepers splitting morning and night shifts. We'll also use signage to communicate with our team members about sanitization methods and schedules, so that everyone feels confident in the safety and cleanliness of their workspace.
New Policies
To ensure a clean environment, we'll do our best to make sure everyone who comes into the office is healthy. We'll only allow entrance through the front of the building for now, and we'll check temperatures of employees and visitors at the door. Employees will be encouraged to stay home if they have even a slightly elevated temperature or think they may be sick.
By staying flexible and getting creative in reimagining your workspace, you can make sure your office is clean, comfortable, and productive for your returning team.