STANDING DESK REVIEW: WHICH SETUP IS RIGHT FOR YOU?
It's hard to ignore the recent standing desk movement. Using a standing desk is one way to encourage you to live a healthier and more active lifestyle.
Many organizations have begun to recognize the great benefits that come with switching to an active workspace. For example,
You may have noticed that height adjustable desks are becoming more mainstream and that there are a growing number of product choices available on the market. While lots of choices can be a good thing, it can also get confusing when it comes time to figure out which standing desk setup will best suit your needs. But have no fear – whether you are looking for a thrifty DIY solution or a sophisticated ergonomic masterpiece, look no further than our handy dandy standing desk review guide:
DIY Standing Desks
A DIY standing desk might be ideal if you are interested in trying a standing desk but not quite ready to commit. You can hack your own standing desk solution relatively inexpensively by setting a small end table on top of your desk and placing your laptop on its elevated surface. The advanced version of the DIY standing desk involves securing a shelf to the front of the end table, which you can use for your external keyboard and mouse.
However, like most DIY solutions this method is not without a downside. It does not allow for height adjustment and experts have come to a consensus that you must find a balance between sitting time and standing time in order to get the maximum benefit from a standing desk.
Laptop Standing Desks
Height adjustable standing desks for laptops may be most practical for those who travel frequently. Most compact standing desk models are lightweight and can fold down to the size of a small suitcase. Best of all, most models are portable so you can take it with you from meeting to meeting.
Keep in mind, compact standing desks are lightweight for a reason: most models can only support a limited amount of weight. Be sure to consider your weight requirements before purchasing a standing desk for laptops. Also, if you need room to spread out you may want to upgrade and opt for a larger solution.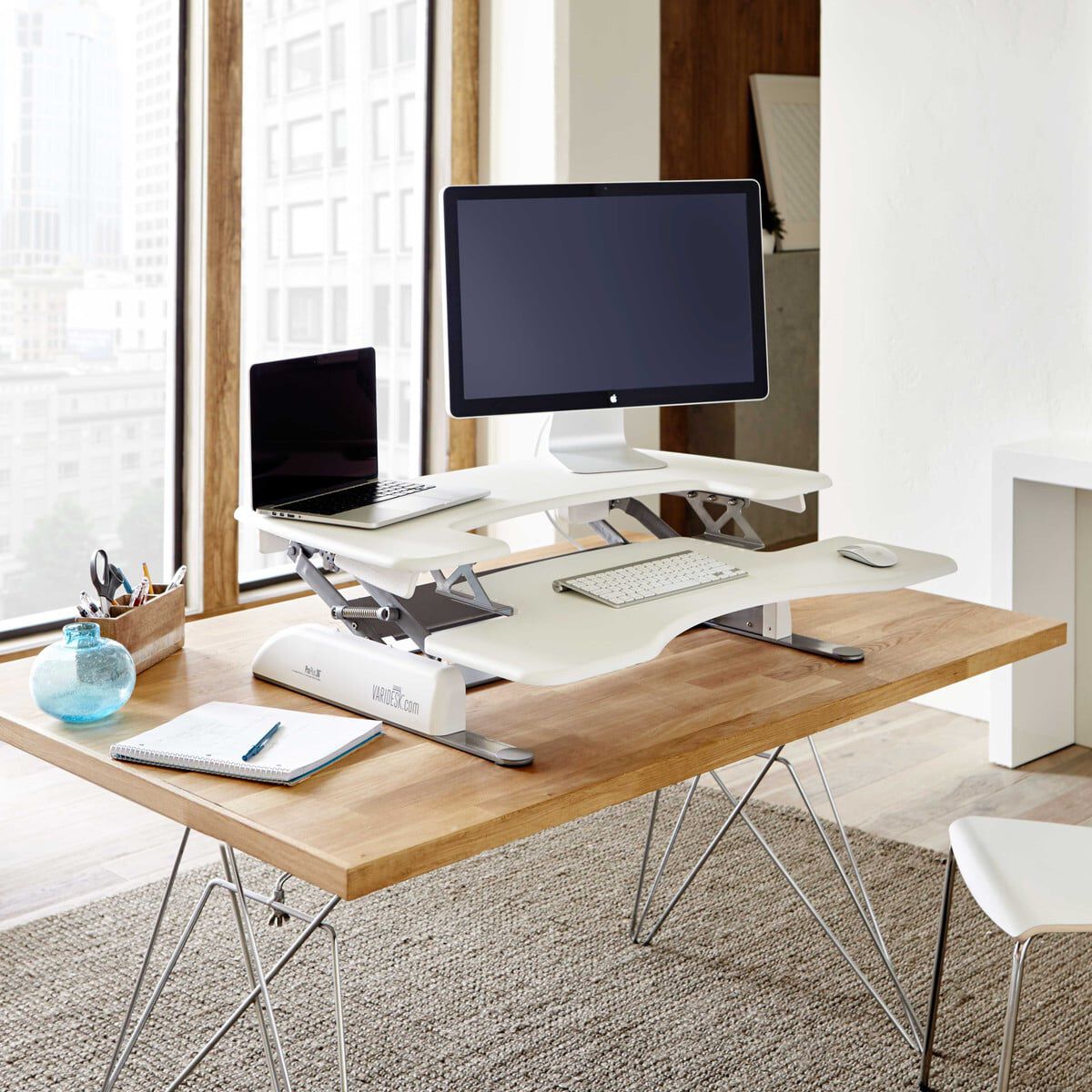 Standing Desk Conversions (or Desk Risers)
Standing desk conversions, also known as desk risers, are the easiest way to convert your existing desk into a height-adjustable standing desk. Their convenience is twofold: they work with (instead of replacing) existing furniture, and they require minimal, if any, assembly. Simply remove the converter from the box, follow the assembly instructions as needed, and (with the help of a friend) place it on top of your current desk. That's it — now you can move from sitting to standing throughout the day.
If you are extremely tall or short, you might have difficulty finding the right model to suit your needs. Also, while pricing is continuing to become more affordable, these types of standing desks can be a little more expensive when compared to laptop models or DIY solutions.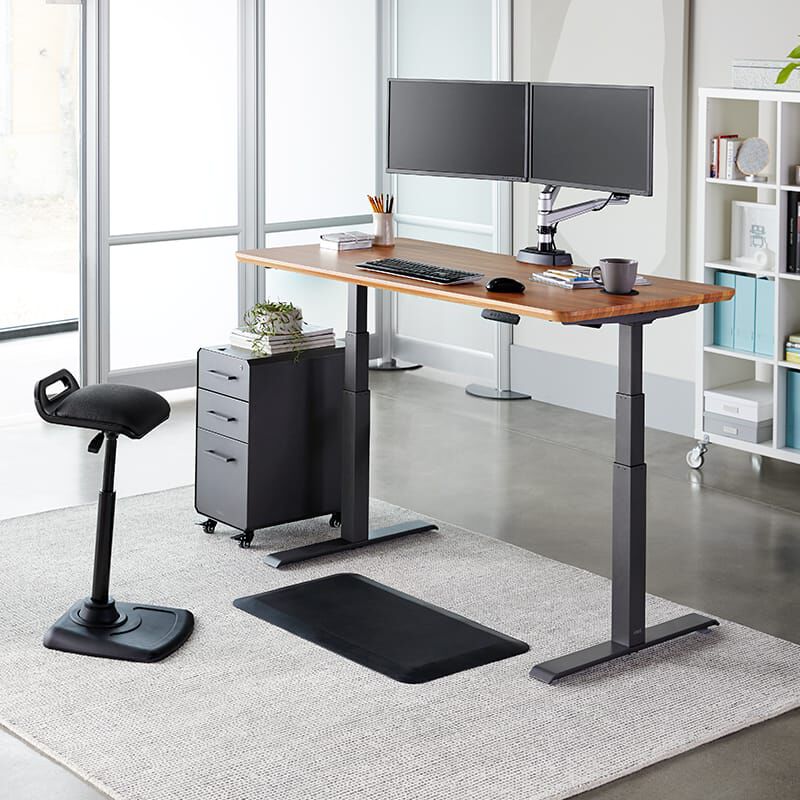 Electric Standing Desks
An electric adjustable-height standing desk converts from a sitting desk into a standing desk with the push of a button. Unlike crank or handle operated standing desks, electric standing desks do not require manual intervention in order to convert from one position to another. Keep in mind that you'll need to be located close to a power source!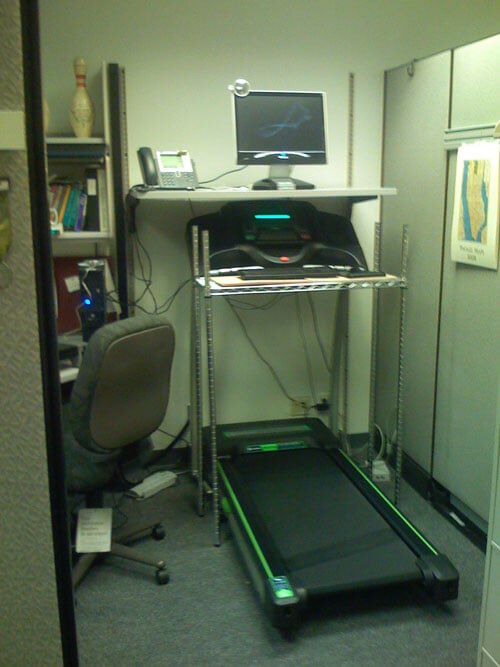 Treadmill Desks
A treadmill desk combines the health benefits of an elevated workstation with the power of a treadmill to increase your level of activity throughout the day. Treadmill desks are not designed to be a replacement for rigorous activity; rather, they are designed to promote slow and constant movement throughout the day.
While a treadmill desk might be a great tool for boosting your metabolism, be prepared to potentially break the bank. Most models cost upwards of $1,000.00 and do not offer the benefit of height adjustability. They also require a lot of floor space and studies have demonstrated a reduction in cognitive abilities if you work while walking.
As you can see, there are standing desk models that can fit every need and budget. Each version has its pros and cons; which setup works best for you?
*Harvard Medical School. (2004) Calories burned in 30 minutes for people of three different weights. Web. www.health.harvard.edu
**Pronk, Nicolaas P, PhD et al. (2012) Reducing Occupational Sitting Time and Improving Worker Health. Preventing Chronic Disease, 2012 Oct. 11.
***Berkowitz, Bonnie et al. (2014) The health hazards of sitting. The Washington Post. Web. www.washingtonpost.com
****Husemann, B. (2009) Comparisons of musculoskeletal complaints and data entry between a sitting and a sit-stand workstation paradigm. Human Factors.