Quick FAQ Guide
Your quick guide to the most common questions about our products, company, and processes.
By Phone
We want to hear from you! The fastest way to contact us is by phone. Call 1-877-370-8337 to talk with someone about your questions, concerns, and for process updates. You can reach us from 7:00 a.m.-4:00 p.m. MST Monday-Friday, excluding national holidays.
By Email
You can send us a message on our contact us page. Please allow 1-2 business days for us to reply. If you need to cancel an order or have another time-sensitive question, please call us.
By Chat
You can also chat with our team when the "click to chat" button is available on the bottom right-hand corner of your screen.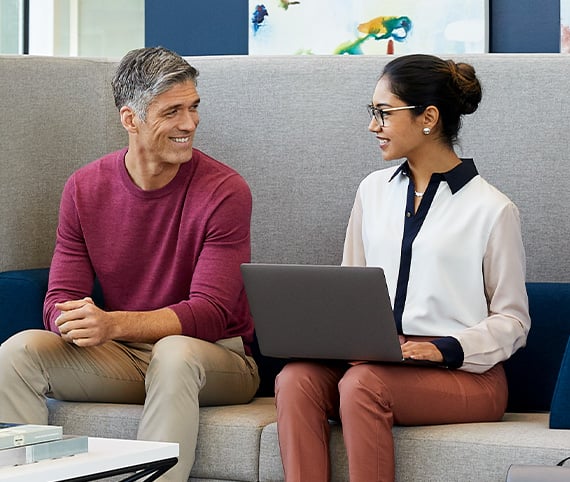 Vari offers free FedEx ground shipping to anywhere in domestic Canada. FedEx Ground usually takes 1-5 business days to deliver from ship date. If FedEx ground service is not available in your area we will not be able to fulfill your order at this time.
Some remote areas in the Northwest Territories, Nunavut, and Yukon may incur an additional shipping charge. Please call customer service at 1-877-370-8337 if you have any questions.
Orders placed on weekdays ship within 24 hours. Orders placed on weekends or national holidays ship the next business day.
For freight or bulk orders, please call 1-877-370-8337 to inquire. We work with third-party freight companies to deliver your product.
All of the monitor arms are VESA Standard-compatible and have a backplate with distinct mounting holes at 75 mm x 75 mm and 100 mm x 100 mm. This fits a vast majority of monitors.
The Single-Monitor Arm can hold any monitor up to 9 kg, with no monitor size limits.
The Dual-Monitor Arm can hold most monitors up to 9 kg per arm. With a larger monitor, you may experience placement issues.
The Dual-Monitor Arm 180 Degree can hold up to 9 kg per arm. We suggest using monitors that are no more than 61cm across, diagonally.
Due to our fast processing times, it might not be possible for us to cancel your order. For the best chance of canceling your order, reach out to us by phone (not email or chat) as soon as possible after creating the order. If you weren't able to talk with a representative in time to cancel the order, you can refuse delivery from the FedEx driver (please call to inform us), or you can contact us for a return after delivery. Please note that we may have to follow the normal refund time frame, even for cancelled orders.
We stand behind our 30-Day No-Risk Guarantee. If you purchased a product directly from Vari, you have 30 days from the delivery date to try it out. If you don't love it, we'll pay to pick it up so you can return it.
In order to return product, we ask that you repackage the returning product in Vari® packaging. If you disposed of the original packaging, we'll send out an empty box, free of charge. If you're getting a replacement product, we may ask that you wait for the replacement product to arrive and use that packaging to return the original item. Orders installed by Vari or an authorized third party are subject to a restocking fee of 10% of the value of the returned product for products that are returned, exchanged, or are unable to be installed.
Vari Products and Processes
We get a lot of questions about our desks, accessories, and more. This resource will help you learn everything you need to know about our products, company, and processes, organized conveniently into categories.
The easiest place to find specific product dimensions is on the product page and in our product spec sheets.
Desktop
It's normal for the edge of the keyboard tray of the desktop converter to overhang the front of the desk a little when in the fully-collapsed position. For example, the VariDesk® Pro Plus™ 36 has a posture curve (the curved indentation at the front of the keyboard tray), which should be aligned with the edge of the desk when fully lowered. The slight wings of the bottom tier will therefore overhang a few inches off the front of the desk. Please note that it's important that the feet/base of all desktop converters are always supported by the desk.
Full Desks
The footprint of full desks is equal to the width and depth of the desktop. For those desks with manual rowing lift, the desktop may come out and towards the user, increasing its footprint.
Please note that no matter your desk shape, your desk should support the legs and base of any desktop converter at all times. For any questions, please call our Customer Experience team at 1-877-370-8337.
If you can't decide which desktop or full desk product is right for you, try our Quick Fit Finder! It'll quiz you on your particular setup and needs and will provide you with our best solution for your scenario.
Our monitor arms are made specifically to fit VariDesk® products. However, the 1 3/8" (3.5 cm) clamp means that it should theoretically fit on any desk with a desktop width equal to or less than 1 3/8" (3.5 cm).
Two Monitors
For those with two monitors (with or without a laptop), consider any of our desktop converters 36" (91.5 cm) wide or wider (the VariDesk® Pro Plus™ 36 is our bestseller and works great for two 24" (61 cm) monitors.)
Three Monitors
For those with very large monitors or with 3+ screens, we suggest a full desk replacement. Our Electric Standing Desk 60x30 boasts a large workspace and our highest weight capacity for all your screens.
The numbers in the product names mostly refer to their size in inches.
For example, the VariDesk® Pro Plus™ 36 is 36 inches (91.5 cm) wide. Our Electric Standing Desk 60x30 is 60 inches (152.5 cm) wide by 30 inches (76 cm) deep. In the case of the Dual-Monitor Arm 180°, the numbers in the name refer to the 180-degree rotation of the arms.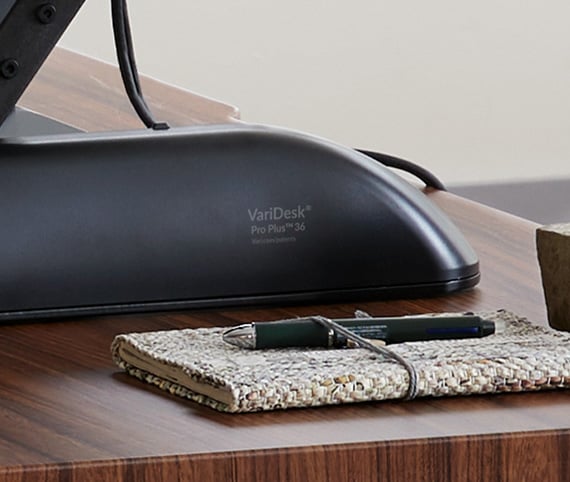 Height matters when it comes to finding your perfect standing-desk solution.
For Taller Users
We typically classify people who are 1.9 m or taller as a "taller" user. These taller users may find that the VariDesk® Tall 40 is a great fit for a desktop converter. For a full desk replacement, our Electric Standing Desk has the greatest range of heights, from 65 cm to 129 cm from the floor.
It's important to Include all accessories and monitors when calculating the total weight on your desk. Staying within the weight limit helps the desk function better and lowers the chances of back strain. Weight limits for each product can be found on their individual product pages.
We produce our furniture using high-quality, contract-grade materials, detailed below. Learn more about our dedication to quality.
MDF
We use only the highest-quality medium-density fiberboard (MDF), which is built tough and strong for many years of use.
Laminate
All our desks and desktop converters are made with top-grade, heavy-duty laminate. Its luxe surface texture makes it resistant to scratching.The Reclaimed Wood finish has a slightly more pronounced texture than the others, in keeping with its more natural, wood-look character.
Steel
We use heavy-duty steel in many of our products. It's in the T-Style legs in our Electric Standing Desk, and in the rocking bar in our ActiveMat® Rocker, to name a few. We also use powder-coated steel in our Metal Conference Chairs and our storage cabinets, like the Storage Seat, which adds an external layer for extra durability.
Molded Plywood
We use molded plywood in our Active Seat. Its graceful curve provides a natural, smooth surface.
Polyurethane
Our mats are made with highly-durable polyurethane. They're especially designed to provide long-lasting comfort as you stand while working. To lengthen the lifetime of your mat, we suggest you don't use a chair over them.
We're committed to quality. Where applicable, our products are made to the highest standard, qualifying for the industry's leading product certifications. Learn more about our many product certifications.
UL BIFMA
Many of our products have achieved UL BIFMA Performance Certification.
GREENGUARD and GREENGUARD Gold
We're very proud to have many products that carry GREENGUARD and GREENGUARD Gold certifications.
How to Use Our Products
We are constantly innovating and creating new technologies or combining thought-leadership across industries. Learn about some of the basic principles that make your Vari product work.
Your VariDesk® converter seamlessly clicks into multiple height positions by squeezing the two handles and either pulling up to raise it up and out or pushing down and back to lower. This allows you to easily adjust your VariDesk converter to your specific height setting.
We designed our patented rowing-lift for optimal posture, so you can lift up and back and leverage the strength in your lower body. While raising or lowering your desk, we suggest you bend from the waist and maintain a straight back. Our spring-assist will help you out.
For those lighter products, we used a straight up-and-down lift to keep a small footprint. We kept the product weight and weight limit light to keep the pressure off your back.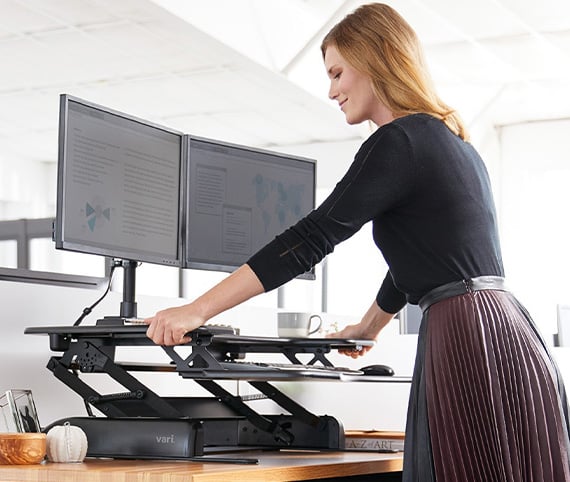 You won't have to readjust your things when you completely lower your VariDesk® converter to sit. Please note that when using a desktop converter, when completely lowered, the bottom tier will be about 1.9 cm above the surface of your desk—consider how this may affect your sitting posture.
You won't have to readjust your things when you completely lower your VariDesk® converter to sit. Please note that when using a desktop converter, when completely lowered, the bottom tier will be about ¾ inch above the surface of your desk—consider how this may affect your sitting posture.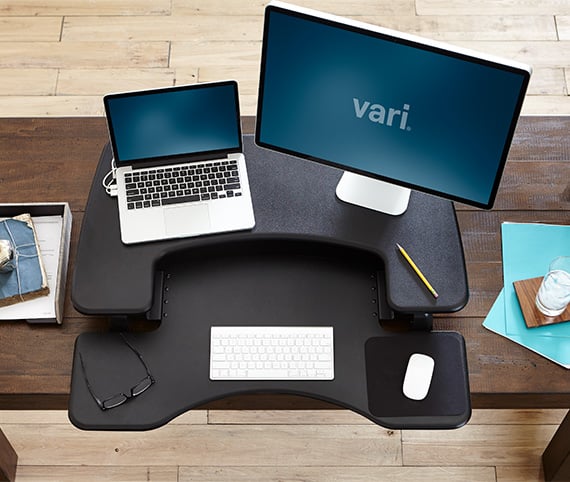 Almost all writing and computer desks are compatible with VariDesk converters. However, our desktop converters are not meant for glass-top desks. Always check the weight limit of your existing desk to make sure it can hold the VariDesk converter and all personal items.
Purchasing and Payment
We have customers around the globe. Find the perfect purchasing process for you.
Credit Card
You can pay with a credit card on the website or over the phone. If you have problems with a credit card payment, please call 1-877-370-8337.
PayPal Online
You can pay through PayPal at checkout.
Invoice
To pay by invoice, please call 1-877-370-8337.
Vari currently operates separate websites for purchasing in the United States, Canada, Australia, Europe, and the United Kingdom. Orders placed on each of these websites can be shipped within that respective region. For example, an order for delivery to a Canada address may only be placed through the Vari Canada website. At the top of each website, you may select the appropriate shipping region and shop that region's selection. At this time, we do not ship orders across regions, nor to other areas of the world. However, we do have authorized distributors in some other geographies, which are also found in the selector at the top of the website.
If you are tax-exempt, please call 1-877-370-8337 to place your order. You won't be able to make a tax-exempt order without calling. If you have not provided your tax-exempt status to us before, please be prepared to email a copy of your certificate to the representative helping you. You will need to provide proof of tax-exempt status for the province where the product is being shipped. The organization or individual name on the order must exactly match the province tax-exempt certificate. A credit card with tax-exempt status will not be enough to guarantee you are not charged tax.
We advise that you speak with a tax professional for an exact answer. If you're already claiming self-employment or home office deductions, you probably have a better chance of claiming a deduction for a standing desk.
Shipping, Returns, and Repairs
We ship to over 120 countries and have an industry-leading warranty. That's Vari.
There is no expedited shipping offered through the website. Call 1-877-370-8337 to discuss expedited shipping possibilities.
At this time, we are not able to make exchanges—instead of exchanging, we will initiate a return and issue a refund for the original item once it's returned to our warehouse. You can purchase the new product right away, or you can choose to wait for the refund from the first purchase.
Refund times are subject to change. However, we typically release funds back to your bank 5-7 business days after we receive the product back in our warehouse.
Please note that we may not have replacement parts available for all items either to sell or send to our fans.
Feel free to contact us for a warranty claim within the time stated for your warranty. We will either send a replacement part or full replacement, depending on the issue. We don't currently dispatch repair teams as we want to make it as simple as possible to get you back to work with a replacement.