Daymond John's motto in life and business? Rise and grind.
Last month, the Vari team welcomed Blueprint + co. founder, Shark Tank personality, serial entrepreneur and Vari customer, Daymond John, to Vari headquarters in Coppell, Texas. Daymond sat down with Vari CEO, Jason McCann, and gave the team business advice, discussed what he's learned over the years and shared a few laughs.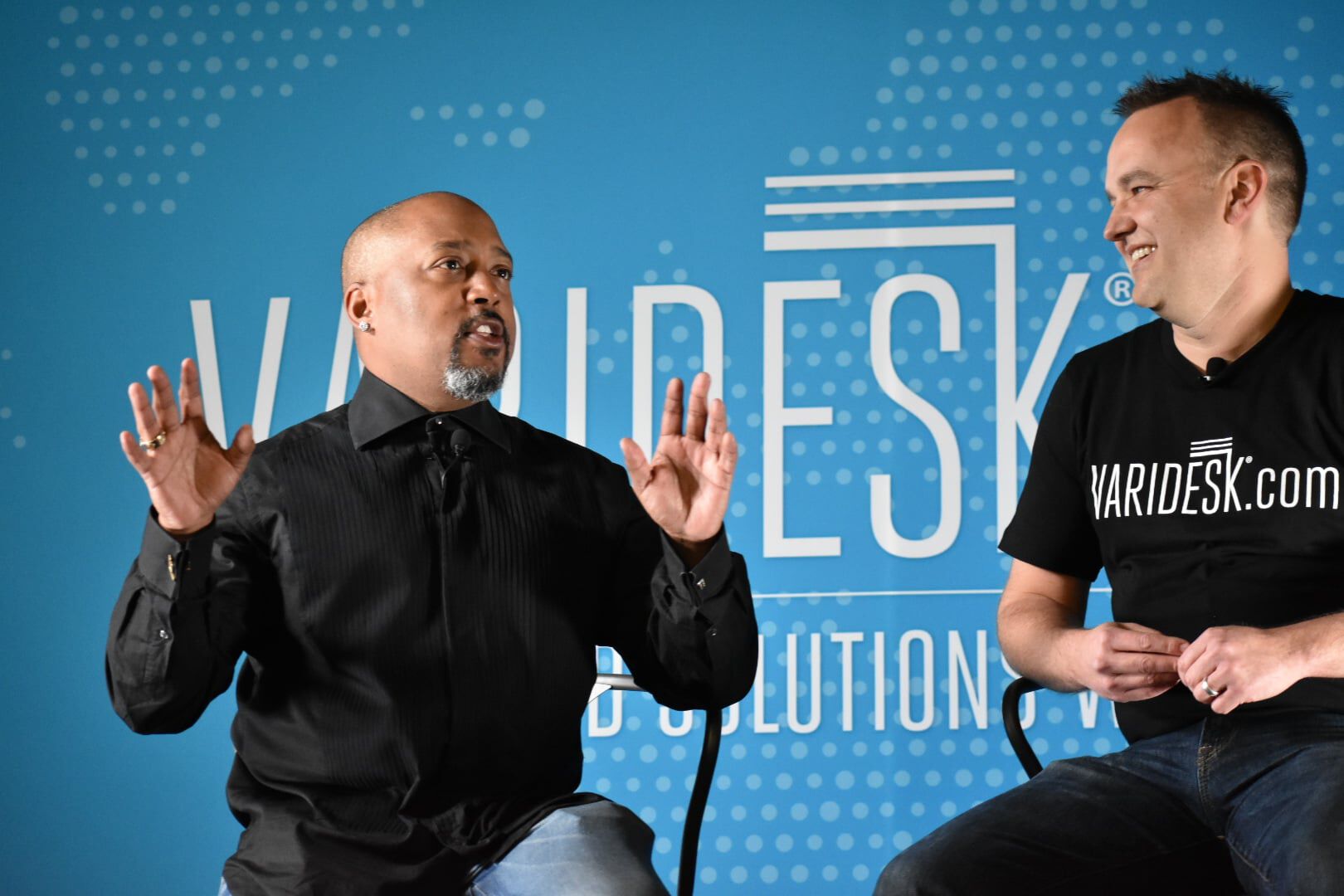 Daymond and Jason launched their meeting by discussing innovation. Daymond noted that his company, Blueprint + co., utilizes an open floor plan that features VARIDESK products. Blueprint + co. is a creative open workspace for established influencers, connected executives and corporations and their approach to office space allows innovation to flourish.
At Blueprint + co., employees are more open to collaborating and can easily share ideas across open tables. Daymond told the team at Vari headquarters, "Innovation is people working amongst people and coming up with ideas together."
Not only does this innovation help progress technology, it can also help employees grow. According to Daymond, jobs shouldn't be just financial transactions but rather a place where employees get paid to learn, grow and progress in their careers and lives.
With technology evolving at such a rapid pace, it can be difficult to keep up and ensure a business is thriving in an ever-changing market. Daymond encouraged the Vari team to commit to continually learning. "You need to keep learning no matter what. I am learning every single day."
Daymond and Jason also discussed that, because of modern technology, mentors can be many different ages and come from diverse backgrounds. While his older mentors have wisdom and experience, his younger counterparts have technological savvy.
But why is fostering and learning from employees, especially younger employees, so important?
The average age of employees in today's workforce is 28 years old making Millennials the dominant demographic in today's workforce. This changing workforce demographic calls for a transformation of work culture by embracing an active and engaging environment, thus providing employees with a flexible workspace that allows for more activity throughout the day. Seizing upon this new normal, both Blueprint + co. and Vari share a mission for improving working environments for entrepreneurs through active and collaborative workspaces.
Daymond left the room with a closing remark about success. The people he met who were the happiest were those that felt they were making the world a better place through their passions: helping endangered animals, fighting human trafficking, being a great father or mother, etc. While having money isn't a bad thing, at the end of the day, it can't solve all of one's problems.